Ecotric Electric Bicycle for Sale (Ships from
Hayward, California
)
2021 Ecotric C-FAT20810-WB E-Folding Bike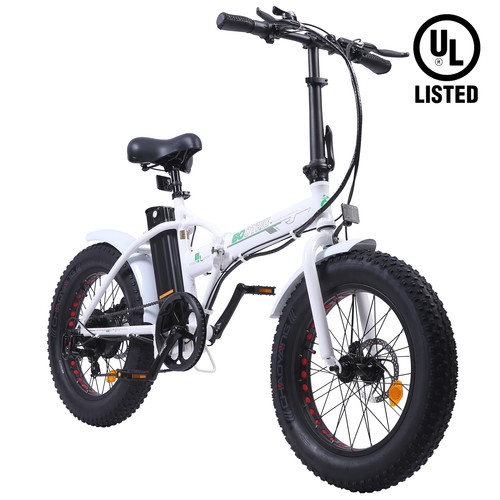 Brand: Ecotric
Bike Type: E-Folding Bike
Wheel Size: 20 in
Voltage: 36 V
Frame Size: 20 in
Color: White
CLICK HERE TO VIEW THE PRICE
MORE DETAILS ON THIS ELECTRIC BICYCLE
Suspension Type: No Suspension
Department: Unisex Adult
Brake Type: Disc Brake – Mechanical
Motor Type: Rear Hub 36V 500W
Number of Speeds: 7 Speed
Model: C-FAT20810-WB
Motor Power: 500 W
Tire Type: Fat Tires
Material: Aluminum Alloy
Handlebar Type: Flat Bar
MPN: ECOFAT20810
Frame Number: No
Gear Change Mechanism: Shimaro rear gears
Shifter Style: Thumb Shifter
Features: Adjustable Seat
Model Year: 2021
Charging Time: 5-8 Hours
Maximum Range: Up to 20 mi
Custom Bundle: No
Item Height: 28 in.
---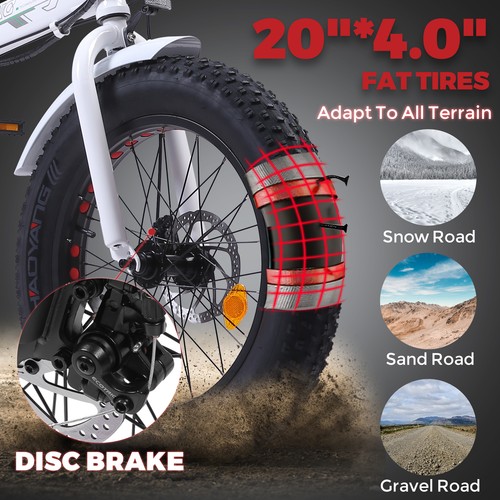 Do you want to see more pictures of this electric bike? Click Here
ECOTRIC Folding 20″ 500W 36V Electric Bike Bicycle Fat Tire Snow City EBike UL 20" Fat Tire – Car's Great Partner As a folding bicycle, its upper tube, the handlebar stem, even the pedals are foldable. It can take on many tasks you would not expect from a Portable &folding bikes such as hauls from the grocery store, challenging terrain, and rough roads without breaking a sweat. (Beware of the ultra-low price electric bicycles on ebay. They are all fake!!! Especially beware of new store which has no items for sale, no feedback, but only one bike!!! ) Why do I choose ECOTRIC UL Certified ebikes? UL has been around for 125 years ensuring the safety and accountability of electrical products in everyday American life. Being UL certified illustrates a businesses' dedication to consumer safety, as well as the quality of their products. Another important caveat of UL certification is for insurance purposes and customer security. It's a true indication of an item's safety and longevity. The current model has been certified by UL. The UL certification mark can be seen on the seat post. 500W Gear Motor Brushless geared hub motor Strong power High efficiency Quieter, lighter, smoother 36V/12.5AH Removable Lithium Battery Removable High energy Battery lock and power lock function 5-8 hours fast charge SHIMANO 7 Speed Derailleu High quality with seven-speed system 400-600 cycles service life 18-23 miles per charge Max speed: 20 mph/h Portable and Folding Portable and adjustable upper tube, the handlebar stem, even the pedals Ergonomic Seat High comfort seat makes the trip easier Fashionable Fat Tires Tire: 20″ * 4.0 cover tyrep; 20″ * 4.0 innertube. Anti-skidding, adapt to snow, sand and other complex topography Linearness Designed Frame The aluminum alloy folding frame makes the bike lighter and easy to carry ECOTRIC UL certified ebikes The current model has been certified by UL. The UL certification mark can be seen on the seat post. Insufficient electric power continuation mileage after one-time battery charge "Continuation mileage"means that after the new battery, means that after the new battery is fully charged, its weight is configured to 75kg(The total weight of the rider), the ambient temperature is 25?±5?, and the wind speed is not more than 3m/s. Ride on a flat secondary road until it reaches the mileage under the condition of battery undervoltage. a) With the passage of time, the capacity of the battery has decreased. For example, the new battery may have a "continuation mileage" of more than 30 kilometers. After a period of use, the battery capacity will decrease as the use time increases, so the "continuation mileage" will decrease. b) Riding under poor road conditions, headwinds, uphills, loads, frequent starts, insufficient tire pressure, etc., will make the riding current increase and the battery discharge time reduce, so the "continuation mileage" will be somewhat decreased. c) As the temperature drops, the capacity of the battery will decrease. When the actual "continuation mileage" is at 25°C±5°C standard temperature, every 1°C drop will shorten the "continuation mileage" by approximately 0.5-0.6km. d) Improper charging of the battery will reduce the capacity of the battery, thereby affecting the "continuing mileage". -1 Riding in low temperature conditions. Once you get home, you can't charge it at low temperature immediately. If you do, the battery will be falsely charged and the capacity will gradually decrease. Because at low temperatures, the chemical reaction on the battery electrodes is very slow, the charge acceptance is very poor, and it is difficult to fully charge. Therefore, you should put the battery to a room above 15°C, and then recharge the battery after 1 hour. -2 Considering the riding distance and needs, frequent charging is beneficial to the battery life. However, when the battery is fully discharged and then recharged, due to the difference between the single cells during discharge, some single cells may be over-discharged. Over-discharge will greatly reduce the charge acceptance ability, cause insufficient charge, and gradually decrease the capacity. Therefore, when the battery discharges 50-70% of the power, it's the right time to charge the battery. Note 1: This is not a professional mountain bike, it has a certain climbing ability, but the slope should not be too long and steep, it is recommended to ride on flat roads or paved mountain roads Note 2: after receiving the bike, please record its serial number (usually located at the bottom of the bike frame, some models will be located on the head tube). You can use this serial number to file with the vehicle management center.Recently we received a letter from a customer whose bike was stolen, and the police needed him to provide the bike serial number for the record. Video Presentation: https://www.youtube.com/watch?v=1bpH_BCSCzo (This video is only a reference video for installation.The product is the same as our picture show.) Packing List1 x UL Certified-Ecotric 36V Fat Tire Portable and Folding Electric Bike1 x Lithium-Ion Battery1 x Battery Charger1 x Kit Box2 x Pedals1 x Saddle1 x Display2 x Keys1 x Tool Kit2 x Reflector1 x Owner's User Manual ShippingAll items will be shipped out in 1 business day, no expedited service available.Ship USA only (Doesn't include Hawaii, Alaska or Puerto Rico, PO Boxes/APO's? Contact usIf there's any question, please feel free to contact us on eBay. We'll reply you in 1 business day.
INTERESTED? CLICK HERE AND BID OR BUY NOW THIS ELECTRIC BICYCLE!